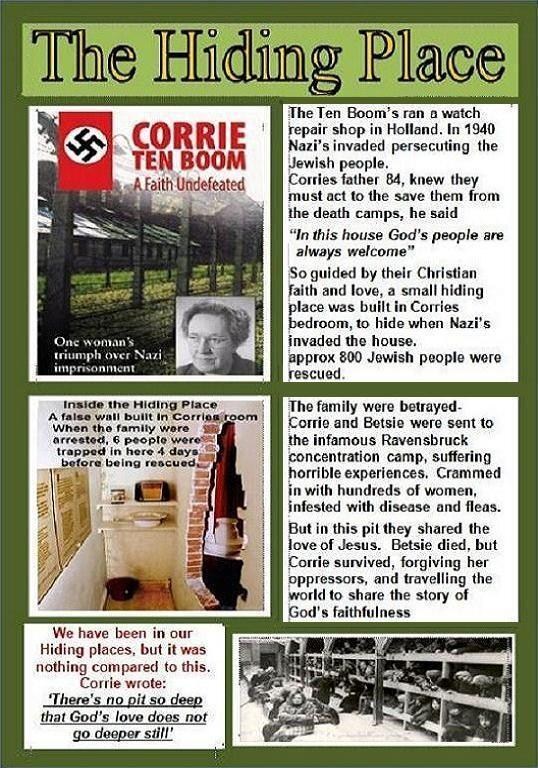 Welcome to Dunk's Green Free Church
Dunk's Green Evangelical Church is the last remaining independent village church in the Tonbridge and Sevenoaks area. First established in 1839, today's church remains true to its founders' original vision -- to preach the full Gospel of Jesus Christ and to encourage local people to seek and trust Him alone for their salvation.
This Courageous Family stood for truth in the midst of WW2 When the Germans invaded Holland and began persecuting the Jewish people, Casper her father, said
"In this household God's people, the Jews, are always welcome"
As the story above explains, they sheltered and help save many Jewish people who would have been exterminated by Hitler's death squads.
After being betrayed Betsie and Corrie were sent to Ravensbrook concentration camp, Casper died ten days later in a hospital corridor, their brother died in another concentration camp.
This true story is an example of what one family accomplished when they yielded up their lives for others.
Can we imagine being one of the hunted ones, finding a refuge from certain death? No words could express our thanks and indebtedness to them for the risk they took for us.
This Christian family and many other heroes like them risked their lives that others might live.
B
ut there is One, who's birth we will be celebrating soon, who came in order to save all mankind, not from physical death but something far more crucial, spiritual death.
There are many religions in the world, all proclaiming they are the way. But they all require their devotees to perform either works of labour, rituals, gifts or sacrifices to appease

their god and

gain acceptance.

But only ONE has a Saviour, and that is Jesus, who came to take away the sin of the world.
We have all sinned against God, and our sin has separated us from Him, but we have no idea what the eternal consequences of being separated from Him really means.
When God created man He gave to mankind something He never gave to the animals, and that is a spirit.
Man was made in the image of God, so from the moment of conception we were given a spirit from God. When the body dies the spirit lives on, it can never die. This is why Christmas and the Cross of Calvary are the most important events in the history of the world. This is when Jesus came into the world to die to pay the price for OUR sin, that we may be forgiven and brought back to God. To die in our sin means everlasting separation.
At death the body is separated from the spirit, the forgiven soul enters heaven, but the sinful soul is separated from God forever into everlasting punishment. It is appointed unto men once to die but after this the judgment. Only in this life can we be saved.
But all who call upon the Lord and seek His forgiveness will be cleansed from all their sin.
Today is the day of salvation, believe on the Lord Jesus Christ and you shall be saved for eternity.
How much more indebted and eternally grateful should we be to the Lord for His amazing grace in rescuing us from Eternal death.
The purpose of Dunk's Green Free Church is to preach Christ Jesus and Him crucified– God's only solution for man's eternal destiny.
All are welcome to join us as we meet for worship every Sunday morning at 10.30 or for an informal Bible-study and prayer on Friday at 2.15
Please phone/text 077591 17147 or e-mail :
epastor@dunkschurch.org
Need prayer for any matter? Interested, concerned or confused about the Christian faith? Think all religions are the same? You can contact us in complete confidence via our online e-pastor service. We promise a considered, prayerful and Biblical reply. e-mail epastor@dunkschurch.org